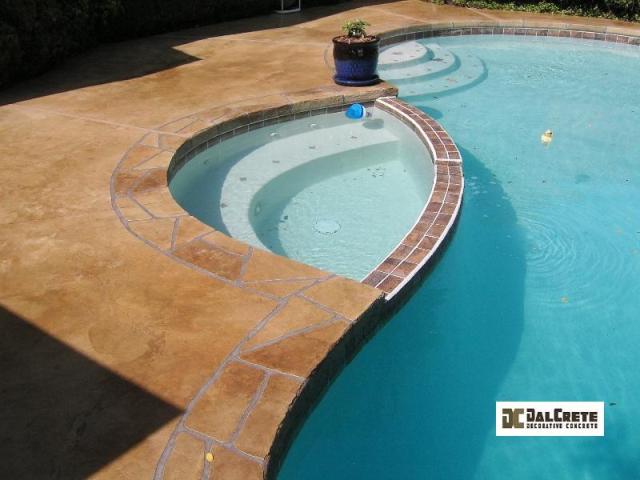 Stained concrete as flooring used to be rare, and a trend flooring option. In the last decade, it has exploded onto the market and has achieved a firm acceptance by homeowners, builders, architects, and designers.

Acid stains create a unique look giving concrete visual character which cannot be achieved by using a conventional polymer or pigment type stain. When placed on a cementitious surface, the single component coloring solution of acidic metallic ion particles (acid stain), chemically react with the particles in the cement (free alkali) to form oxides. Typical paint or coating stains cover up the concrete, while chemical stains infuse the color into the surface to become a permanent part of the substrate which will not crack, chip, fade or peel. The resulting effect creates a translucent, variegated effect, showcasing the character of the substrate. Depending upon the cement content, age, porosity and manner in which hydration took place, the chemical stain will react differently every time. These variables cause broad drifts in color and mottled surface effects which are not considered defects, they are the reason for it's inherent beauty.

Acid stains transform your concrete into a rich and inviting surface that can fit into virtually any design plan. Available in a warm palette of earth tones, adding scored designs, multiple colors, and unique staining methods can produce a showpiece upon which any decorating style will blend.

If you are a builder or are planning to build a new floor please click the following link to know about the do's and don'ts for good stained concrete.

A word of caution on interior stained concrete: Many concrete slabs are flawed from carpet tack strips, tile mortar, non-removable stains, previous coatings, or are just poorly finished. These slabs are not likely to provide the beautiful finishes commonly seen in photos here and elsewhere.

However, with a low cost concrete overlay placed after proper surface preparation, the professionals at Dalcrete can provide you a restored concrete surface tailor made for our stained concrete finishes. Our concrete overlays are hand finished with techniques designed to mimic the burnishing of steel trowel and power-trowelled concrete to give rich variations just like new concrete slabs.
Considerations When Selecting Acid Stain Colors
When choosing Acid stain as a color choice and finish for Concrete it is necessary to be educated on its limitations. The end user should be aware that the basic principles which make Acid Staining so beautifully mottled, variegated and marbleized can also cause some undesirable results.

Un-reacted Acid Stain in its packaging is often a translucent color that does not represent the final color that the concrete surface will become after the reaction and finishing takes place. Many tan and amber Acid Stain colors come out of the package a light green color, and black is generally anything but.

The final color will not be evident until the Stain has completely reacted with the cement substrate. The reaction takes place over a period of 1-8 hours (depending on the manufacturer). Additionally, the color when dry is usually altered to a deep wet look coloration with the application of solvent based sealers, though a water based sealer can maintain the soft look of the acid Stain when dry.

Acid Stains add translucent colors to the concrete surface and do not hide the imperfections of the concrete. Flaws from poor finishing, carpet tack strips holes, tile mortar, non-removable stains from oils and other items, previous coating removal marks – even shadowing from VCT and tile grids – will not disappear.

Any undesirable blemishes or imperfections should be addressed prior to stain application. We will help you to determine which ones may be of concern and propose a remediation.

Application hazards and variations in the surface generally blend in or simply add to the variegated look and feel desired when choosing the natural marbling effect of direct concrete stain.

Color charts should be used as a guide only. On request an onsite mockup can be created to determine final color, or in case of overlays we can create a sample.

Color varies depending on surface porosity and texture, concrete composition and age, preparation and application techniques, number applications, dilution rates, and other factors.

We have extensive experience with acid stains from most manufacturers, because of their consistent quality and reliability we prefer to work with:

Acid stains are permanent they cannot be easily removed, color will not fade, chip, crack or peel and wears only as the concrete wears.
Acid stains do not hide surface blemishes cracks or construction errors. No matter how discolored the concrete, many blemishes or variations will only add to the character of the finished floor.
We serve Dallas, Plano, Frisco, Mckinney, Allen, Lewisville, Grapevine, Arlington, Grand Prairie, South Lake, Flower Mound, Rowlett, Rockwall and the entire DFW Metroplex.
Considerations for Builders:
When putting together a construction schedule it is often understood that 'concrete work' is performed at the beginning of any project. Concrete Staining is not 'concrete work' as much as it is 'finish work' and therefore should be scheduled to commence after the painting stage, prior to finishing work.

However, some builders prefer to schedule any concrete scoring the day after the pour. This allows score lines to continue across rooms once walls are erected. If scoring is done after framing, score lines are normally terminated into a border scored 6″ to 8″ from the walls.

Highly experienced builders prefer to stain concrete at the early phases of construction, during the "Pre-Finished Stage" (normally 14 days after pour). The advantage of this approach is that the stain and seal protect the concrete from damages from other trades. However, this requires a strong management to hold accountable other trades when damages are done to the finished floor, and to keep them from damaging it in the first place.

Dalcrete recommends to stain and seal after framing and roofing are finished. The more trades we follow, the more the quality of the floor suffers. However, this will require a firm commitment to the floor from the builder, other trades, and even the client.



Regardless of when the work is to be completed, some basics will hold true for everyone. A new concrete surface is a virgin canvas, and while it is ready for our stain, it is also ready for any other, most of which will not add to the final look. As such, caution needs to be taken during every step of the building process.

When placing the foundation and ordering concrete, it is important to ensure your concrete supplier and installer understand that the concrete is intended as the finished floor. Use a minimum 5 sack mix (3500 PSI), minimal to no fly ash. No surface curing compounds should be used, and calcium chloride accelerators are an absolute no.

On interior surfaces, the concrete should be power trowelled to a hard, slick finish to achieve a polished marble like appearance in the stain. It is not necessary to burn the floor. Any unreachable areas must be hand finished to a high standard – steel trowelled to a slick finish where the power trowel cannot reach.

On exterior surfaces, a light or medium broom finish is recommended to add slip resistance, (though sealer additives can add resistance for smoother finishes) or if you want a fossilized, limestone-like finish for the surface, apply a medium to heavy rock salt. In addition, texture stamping is a great solution for stained concrete and is always a recommended upgrade outdoors. Outdoor slabs to be stained should not be driven on under any circumstances until well after we finish our work. The requirements and cautions given below are just as important for an outdoor slab as for the interior foundation concrete.

When framing, it is very important that the framers remember several items. One – never brace the frame to the inside. Two – never stage the lumber and sheet materials on the slab. Resins, tannins, and even waxes from the lumber will leave shadow effects outlining where the material was placed. Three – chalking and marking should be kept to a minimum. Do not use red chalk, it is a permanent dye and very difficult to remove. The only colors to be used are white or blue chalk as they are not permanent dyes, and even they should be used sparingly. Do not use grease pencils, and only make light markings with regular pencils. Whenever possible, make notes on the framing itself. Four – cut away base-plates carefully and cleanly as soon as possible from all doorways. Five – pick up all nails and rust producing items when dropped.

Items for everyone on the site include primarily, a need to work clean. No solvents, markers, wax or grease pencils should be used to mark the slab, and only appropriate chalk colors. The floor must be protected from gouging and chipping – dragging heavy items or dropping items from ladders or above is not acceptable. The floor should be protected from adhesives, caulk, gas, solder, flux, oils, PVC primer/cleaner, PVC adhesive, metals and rust producing items. Do not leave lumber, sawdust, sheet materials, plastic, nails or other items on the concrete – clean as you go! Otherwise variations in moisture and curing rates, surface porosity and staining will lead to undesired color variations. Lastly, do not eat or drink while on the slab! Find a room that will not be stained and move there. That is also the best place to stage materials when available.



Use drop cloths where needed. Floor must be completely protected during primer, paint, stain, or lacquer stages. Painters may use blue tape and craft paper taped to the wall to protect the edges and tarps to cover the field. Trim painting and touchup must be done by a professional who can keep it off the floor. We in turn will protect their work whenever necessary.

When acid staining is done at the Pre-Finished Stage your finished floor will require some level of protection during the rest of construction.



The best way to protect your investment is by covering the surface after we have applied the sealers. Be sure to inform all subcontractors to treat the floor as a finished product. Here are some different levels of protection you may require:

Low Traffic – Light Residential:
Place rolled cardboard over the entire surface making sure not to tape to the concrete itself. (Some tapes, even 'painters tape' can adhere to freshly cured sealers and make for undesired outcomes.) Tape the paper to itself and then use Masonite or OSB (Oriented Strand Board) to help hold down the paper in doorways and high traffic areas.

Medium Traffic Areas – Light Commercial:
Use rolled cardboard taped to itself covering the entire area. Use Masonite or OSB over the entire area for complete protection.

High Traffic – Maximum Protection:
Use Breathable inexpensive carpet turned upside down, and then cover entire surface with OSB.

Once the construction process is nearly complete, we will return to remove the protective coverings, clean the floor, touch up any small items, (damages will be billed repairs) and apply our final floor finishes in preparation for handoff to the client.

Dalcrete can work either at the Pre-Finished or Finished stage, in both cases floors should be clean and empty prior to our arrival. Do NOT use acids or chemicals to clean. We include in our projects a maximum of 1 man hour for incidental cleaning or moving items. After the first hour charges will apply per man hour at Dalcrete rate (not at a cleaning crew rate). This helps ensure we can honor our time commitment to you as well as the projects for other clients scheduled after yours.