Exterior Concrete
The drawback to beautiful decorative concrete is that you notice when it is dirty. Your new surface must be maintained properly to keep its beautiful appearance and functionality. The information below will give you the knowledge needed to keep your surface looking its best.
USING DURING CURING:
Newly installed floors are normally cured 72 hours after final coat of sealer. However on newly installed overlays the concrete reaches its maximum strength in about seven days. You can place furniture or heavy items 24 hours after final coat of sealer. Avoid dragging items during curing time.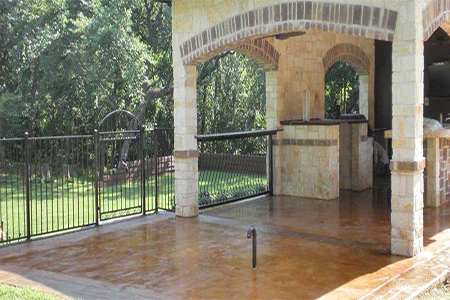 REGULAR MAINTENANCE AND CARE:
Your Exterior surface was sealed with multiple coats of a high-solids, UV-resistant, penetrating solvent-based sealer. This sealer will repel dirt, dust and other substances that can get embedded in concrete surfaces and promote the growth of mold and mildew.

If you notice a powdery white or splotchy appearance; especially after a rain, the sealer is doing its job. This is the dirt/dust mentioned above. Hard water will exacerbate the effect. A rinse with a garden hose followed by a leaf blower to remove excess water will fix this.
If there was a spill of a soft drink or something you didn't see right away, use a mild soap like Ivory liquid in some warm water to loosen the material. Rinse and blow and you are back to a clean surface.
Be careful to avoid spilling of paint thinner, xylene, toluene, gasoline, or any other material with strong solvent properties. In the event that such materials come in contact with the sealer, dab (don't wipe) with a clean rag until the surface is dry. If the sealer becomes tacky, avoid contact with it for 48 hours while it re-hardens.
As with interior floors, plastic glides or Magic Movers should be affixed to heavy furnishings or those which will move frequently.
Potted plants should have a dish placed under them to catch excess water; this is especially true if you use a lot of fertilizer on the plants.
The surface should be resealed periodically. Although we use a high-solids sealer, with the strong sun in Texas, we recommend sealing every 5 to 7 years.
When you start to notice that water doesn't bead up on or seems to absorb into the surface, it is time to reseal.