We are familiar with our commercial clients' complex flooring needs. General contractors need timely bidding and experienced project management. Interior designers need specification services. Architects often need recommendations by flooring specialists to make sure they use the right product in the right application. We have the specialized knowledge to be your expert flooring partner on your next commercial project.

When working in commercial construction and remodeling, cost is always a key issue in the choice of flooring. Dalcrete offers economy to high end decorative concrete flooring options for our clients based on the needs of their projects. With solutions as simple as sealing a concrete floor for an industrial look, or concrete staining and sealing to overlay systems to match slate tiles, or specialty systems such as metallic epoxy flooring for high end projects, we have something to fit every budget and design.

Some benefits of coated concrete floors are: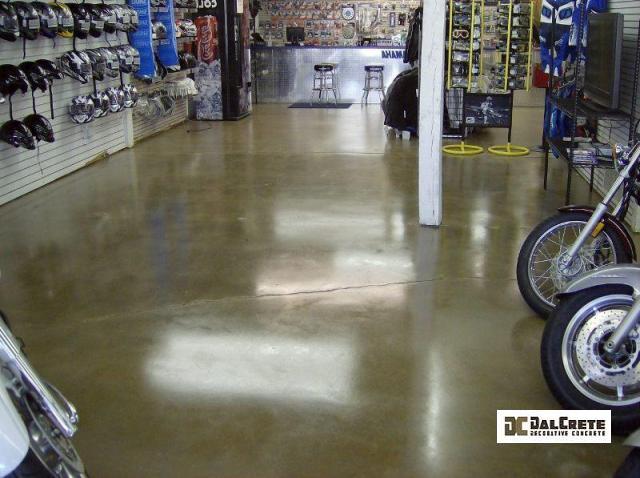 Transformation of porous concrete into a sealed dense surface that inhibits water, oil and other contaminants from penetrating the surface.
Elimination of salt dusting from efflorescence or . In ordinary concrete, tiny particles of salt are pushed to the surface through water evaporation. Also known as concrete saltpetering.
Increased strength for old, deteriorating, weak concrete finishes, with more abrasion resistance and an increase in impact resistance, as well.
Increased ambient lighting which will naturally enhance the beauty of your floor and reduce the cost of lighting.
Decrease in floor maintenance and less drag on cleaning equipment; making brushes, pads and mops last longer. Most floor systems, even ordinary concrete floors, require aggressive scrubbing in order to maintain a clean environment and nice appearance.
Cost-Effective, coated concrete is one of the most economical, cost effective flooring alternatives out there. The reduced costs associated with saved energy, reduced maintenance, and especially the long-lasting durability shows that coated concrete is a budget sensible, as well as beautiful, flooring system.
Longest-Lasting Floor Solution Available. There is simply no comparison to other floor systems when it comes to the life of a epoxy floor. Even the most durable carpet, linoleum or VCT floors will require replacement at some time, whether it is ten or even twenty years later. Epoxy floors will be there as long as the slab exists. With proper maintenance and an occasional top coat epoxy floors provide savings short and long term.
Some of our clients include:
Restaurants
Hospitals
Banks, and Offices
Large Volume Stores
Small Volume Stores
We serve Dallas, Plano, Frisco, Mckinney, Allen, Lewisville, Grapevine, Arlington, Grand Prairie, South Lake, Flower Mound, Rowlett, Rockwall and the entire DFW Metroplex.